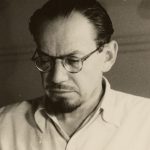 12 July 1990
Muhammad Asad born Leopold Weiss; 12 July 1900 - 20 February 1992 was a Jewish-born Austro-Hungarian journalist, traveler, writer, linguist, thinker, political theorist, diplomat and Islamic scholar. Asad was one of the most influential European Muslims of the 20th century.
By the age of thirteen, young Weiss had acquired a passing fluency in Hebrew and Aramaic, other than his native languages German and Polish. By his mid-twenties, he could read and write in English, French, Persian and Arabic. In Mandatory Palestine, Weiss engaged in arguments with Zionist leaders like Chaim Weizmann, voicing his reservations about some aspects of the Zionist Movement. After travelling across the Arab World as a journalist, he converted to Islam in 1926 and chose for himself the Muslim name "Muhammad Asad"—Asad being the Arabic rendition of his root name Leo (Lion).
During his stay in Saudi Arabia, he spent time with Bedouins and enjoyed close company of Ibn Saud—the founder of modern Saudi Arabia.
On his visit to India, Asad became friends with Muslim poet-philosopher Muhammad Iqbal, who persuaded him to abandon his eastward travels and "help elucidate the intellectual premises of the future Islamic state". He also spent five years in internment by the British Government at the outbreak of World War II. On 14 August 1947, Asad received Pakistani citizenship and later served at several bureaucratic and diplomatic positions including the Director of Department of Islamic Reconstruction, Deputy Secretary (Middle East Division) in the Foreign Ministry of Pakistan and Pakistan's Envoy to the United Nations.
In the West, Asad rose to prominence as a writer with his best-selling autobiography, The Road to Mecca. Later, after seventeen years of scholarly research, he published his magnum opus: The Message of the Qur'an—an English translation and commentary of the Quran. The book, along with the translations of Pickthall and Yusuf Ali, is regarded as one of the most influential translations of the modern era. An ardent proponent of Ijtihad and rationality in interpreting religious texts, he dedicates his works "to People who Think". In 2008, the entrance square to the UN Office in Vienna was named Muhammad Asad Platz in commemoration of his work as a "religious bridge-builder". Asad has been described by his biographers as "Europe's gift to Islam" and "A Mediator between Islam and the West".